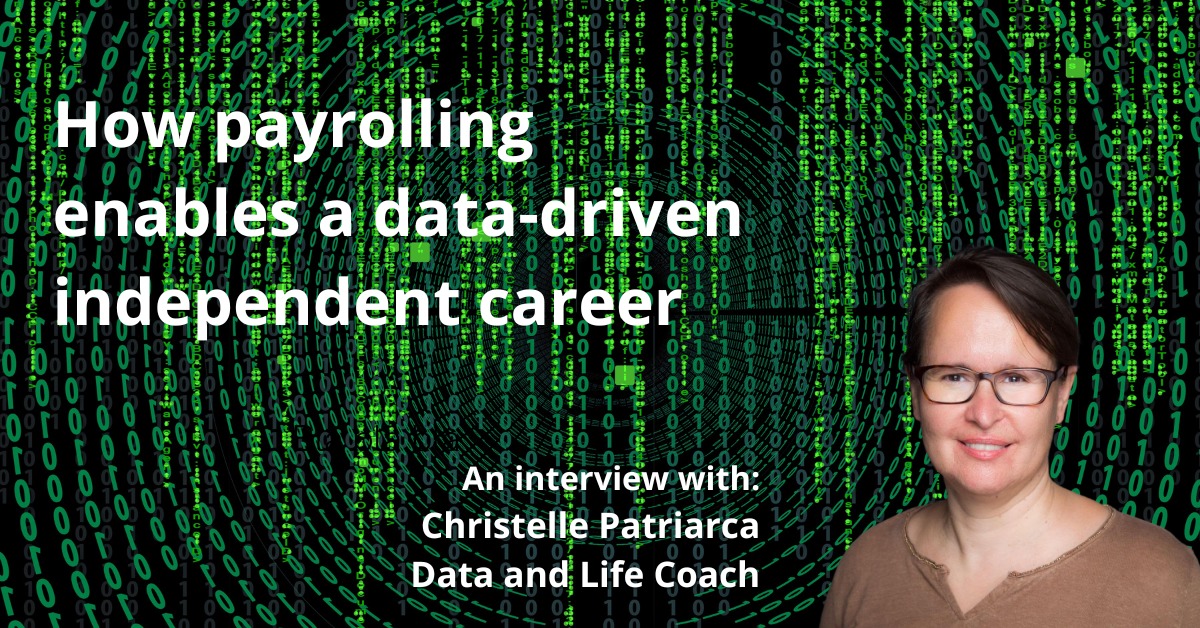 For our interviewee, Christelle Patriarca, Data and Life Coach, data is her life, but she has many other passions. Working through a payrolling company has enabled her to pursue them all.
Describe your journey to becoming a freelance consultant
I have over 20 years of experience in Supply Chain and Data Management, working with very big groups such as LMVH and Nestlé, starting my career in Paris. In 2008 I came back to the Geneva area where I worked in data governance for the FMCG (Fast-moving consumer goods) industry and pharma. I felt a cycle of my career was at a turning point and I was considering my future when I was approached by a client, even before I had finished working for Nestlé as a full-time employee. Before I knew it, I had a couple of mandates under my belt. So, my transition happened naturally, and I have been a freelance consultant for 4 years now.
My clients are SMEs and larger enterprises that I support to introduce data governance concepts, as well as to deploy and execute ERP roadmaps. I also work alongside Data Officers to help them complete their projects. In addition, I act as transition manager at the core of a team, when resource issues require it. Finally, IT Service Providers hire me to work for their own clients because the latter don't have the internal resources or competencies, to manage their data governance.
Data is my bread and butter, and I am also a qualified Master Coach, a skill I use as part of my data missions, practicing agile methodologies. I also coach individuals to develop their professional lives.
I put my coaching skills to good use in my role as Committee Member for the Career Women's Forum, (CWF) an association in Geneva that promotes women's professional lives, where I am responsible for members' services and run a very successful cross-company mentoring programme.
Lastly, I am very interested in cooking, nutrition, and healthy eating. I run a blog called Délicieuxsanssucre, where I share my insights and recipes. This may also turn out to be a business opportunity later on, perhaps offering classes on how to lead a healthy life. I am also a Mum of 3!
You have many strings to your bow: how do you organize your time as a freelance consultant?
My mandates last about 1.5 years on average and I currently have several clients, so I have to organize myself and my work according to workload. It's about prioritising my available time with the demands of the client and that is the beauty of being freelance. You can be flexible and so can your client. Work gets crazy sometimes, but during calmer periods, I can concentrate on my side interests – and my family! I work at the client site and sometimes have to travel (this was much more the case before the pandemic).
How has using a payrolling company helped you in your career as a freelance?
I had heard of the payrolling model and was telling myself that I should look into it when I met Gina Empson, CEO of The Business Harbour (TBH), whom I did not know, quite by accident at a CWF lunch event. The rest is history! I really think that everything happens for a reason!
There are many advantages to me for having joined TBH. First and foremost, as an freelance consultant, the fact that I have only ONE employer, however many mandates I have. I am a data person, I know about operations, and I also know about personal development, but I am not a lawyer. If a solution like payrolling had not existed, I would have had to create my own company, and that would have been a huge headache. Now TBH handles my contracts, including the legal aspects, and my invoicing, not to mention all social charges, and pays me a salary. I just could not do this on my own if I had my own company.
For anyone reading this who is a "frontalier" and wants to work in Switzerland freelance, the payrolling solution is the only way to go, since they are not able to be "auto-entrepreneurs" in this country. TBH can advise them and set up working contracts with their clients. I have to say that the TBH team is well-organised, knowledgeable, and very responsive. When I see what TBH does for me, I think that their service fee is well worth it.
What are the benefits of payrolling to your clients, the hiring companies?
When I first started, I was told that companies were not keen on independents and that they wanted to deal with another "company". But in fact, what I have found is very positive. My clients are interested in hiring ME, my skills and expertise, not necessarily because I represent a certain enterprise. Finding out that I "work" for TBH is not an issue. In fact, when I interview with a company, this does not come up in the first instance and, when I inform them, they are happy to be able to deal with TBH. It works for me.
You've seen work both as a full-time employee and as a freelance consultant: what's next for work?
I think that the full-time contract is on its way out. Getting a job, sitting back, and riding it out for years will no longer be a sustainable choice. In my view, this is abandoning responsibility for your own career and, ultimately, personal life. Unlike our parent's and our grandparents' generations, for whom work was a "job for life", younger workers want to have more agency on how they work and on what. For me, this is taking responsibility.
I see companies are finding it hard to find the skills they need, and they are happy to hire freelance workers because they know that they have this sense of self-motivation. The contract is usually for a specified job and a defined period and, when it's over, the company is not faced with a resentful employee because expectations are set out and agreed upon by the two parties. So, I see the role of payrolling companies as key to being able to achieve this level of control and independence on one's working life in the future.
What are your tips for budding freelancers or consultants?
Simply this: let go of your fears and believe in yourself! Make a deliberate choice to believe that you can do it. Once you do that, things start to happen, even great things!
Interview by Antonina Marenco
Contact The Business Harbour: info@thebusinessharbour.ch or +41 22 908 02 45