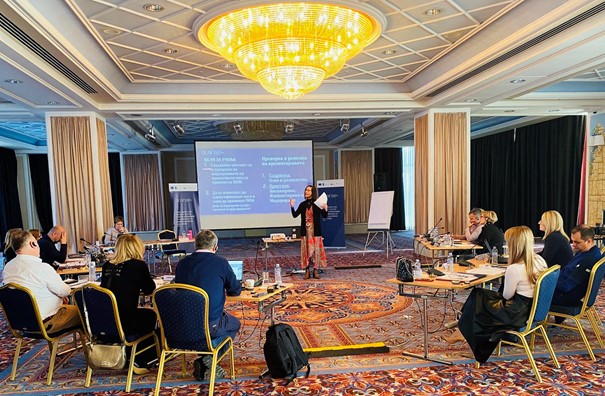 Interview of Heather Huhtanen
"I love my work. I love thinking about it, I love writing about it and I love doing it!". It's not every day that you hear this kind of statement.
But that's exactly what Heather Huhtanen told me when I sat down with her recently to talk about her experience as a freelance consultant in international development. Heather's professional passion is to advance gender equality and other democratic principles in the provision, management and oversight of security and justice. This includes working directly with security and justice institutions and providing technical assistance to donor countries and international organizations. Heather moved to Geneva, Switzerland, to join a Swiss International Foundation dedicated to advancing democratic governance of the security and justice sectors.
What prompted the decision to become a freelancer?
I found that management generally meant less time in the design, delivery, and implementation of the actual work I wanted to do – and more time on people management, fundraising, reporting, planning and meetings.  Being good at your job can mean progressively climbing the promotion ladder and the inevitable responsibilities that come with it. For some people this is a perfect fit, but I was feeling increasingly unsure about my desire to work in a management capacity. In the end I decided to resign in order to focus on the substance of the work.
How did you transition into being your own boss in practical terms?
I ultimately decided that the best way for me to take control of my professional trajectory and focus on my passion was to take a leap and go freelance.  I applied for a large consultancy with an international foundation based in Geneva and, right off the bat I came up against a major challenge: they asked me for my company registration certification. In short, I was expected to have a sole proprietary company. It felt like an impossible hurdle. Apart from the complicated application procedure for this certification, I would have needed the time and expertise to handle an enormous amount of complicated administration including taxes and social costs, and compliance with an array of legal liability. I also would have needed the financial resources to take out insurance and hire an accountant. Before I even started work on my first freelance job, I was doubting the wisdom of my leap of faith, and then I was introduced to The Business Harbour.
How did you become involved with a salary hosting company?
It was the first client that wanted to hire me that recommended I go to The Business Harbour, a salary hosing company. They wanted to hire me – and I really wanted to do this consultancy for them. At first, I didn't really understand how salary hosting worked, but very quickly it became clear that they would take on the "heavy lifting" from the administrative and legal side. In addition to taking care of my salary payments, taxes and social costs in accordance with Swiss law, The Business Harbour also helps me finesse complex contracts involving different tax regimes and competing legal and company requirements. This has proven to be a win-win for me and the clients who hire me. I am happy to say that I now have multiple international clients, varied mandates and long and short-term contracts. By using a salary hosting company, I can focus my attention where I want– on the substance of my work. And, three years later I'm still doing work for that very first client who referred me to The Business Harbour.
A salary hosting company does not come for free
Of course, I was initially concerned by the fee I had to pay The Business Harbour for their services.  I didn't have many clients and my income was irregular.  But this was really my only option, at least in that immediate context. Since then, however, it has become clear to me that the service that The Business Harbour provides is invaluable. The fact is, I could work as a truly independent consultant now – but I choose to stay with The Business Harbour as the peace of mind and the support I get from working with them is more than worth the fees".
Do you have any tips or lessons learned for going freelance?
I certainly do – this has been a steep but fruitful learning curve for me. Here are my top five to those considering going freelance:
Know your strengths and your limits – don't commit to work you know you will struggle to complete whether related to time or substance.
Produce quality work on time – working freelance means that you will not have the same kind of flexibility provided within a company environment.
Be comfortable working in isolation – while you may work with the client's teams and/or in the field, the essence of being a consultant means that you will be doing the work on your own.
You need to have a high tolerance for uncertainty and risk – you may not always know when work is coming your way and this needs to be factored into your salary expectations. The need to be flexible, particularly in the first 3-5 years, means that vacation time can be difficult to plan.
Use a salary hosting and payroll company!
In addition to getting to focus on the substance of your work, are there any other benefits you've experienced as a result of going freelance?
Absolutely! I have more free time to do other things I enjoy. In fact, in the last four years I've read more books than I did in the previous ten years while I was an employee. I've also had time to re-start a hobby I previously didn't have time for – horseback riding.
Interview by Antonina Marenco
Contact The Business Harbour: info@thebusinessharbour.ch or +41 22 908 02 45